Ht One Plus Fine Pen needles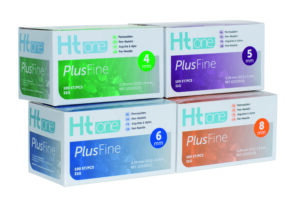 HT One PlusFine Pen needles
HT One sterile Plus Fine Pen needles are diabetes pen needles for administering insulin. The pen needles are universal and fit all the standard insulin pens.
Keuze uit vier maten:
4mm: 0.23mm 32G x 4mm
5mm: 0.25mm 31G x 5 mm
6mm: 0.25mm 31G x 6 mm
8mm: 0.25mm 31G x 8 mm
Suitable for all commonly used insulin pens.
With a silicone coating for comfortable puncturing with no skin irritation.
Every pen needle has its own colour for specific use.
Sterile pen needles for single use.
CE certified by TÜV Rheinland.
For more information, download the folder.